Haley
Here is a graphic on how various reasoning technologies fit the practical requirements for reasoning discussed below: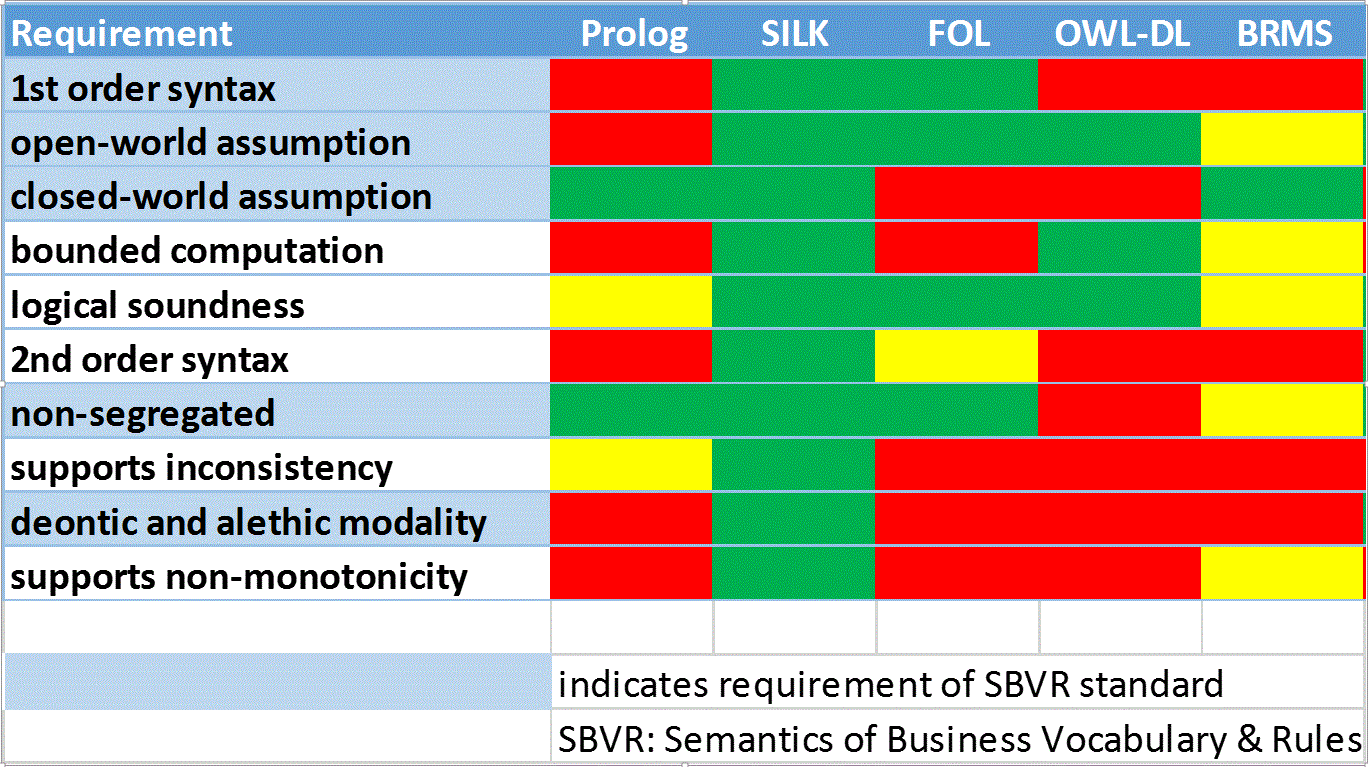 This proved surprisingly controversial during correspondence with colleagues from the Vulcan work on SILK and its evolution at http://www.coherentknowledge.com.
The requirements that motivated this were the following: (more…)
Well this is a blast from the past… I was working on "the next post" about how Watson, Google, and the semantic web threaten the major BRMS systems when I found myself rewriting that what matters about Rete Algorithm-based production rule systems is that the order of the rules does not matter.  It occurred to me that I must have written that a dozen times or more in my career so I did a Google and found this old paper has been on-line at the Free Library On-Line since 2006!  I recall writing this in the early nineties and the owner of an AI magazine telling me he carried it with him for the better part of a year  (and printing it in his magazine, I think).   Some of you may enjoy reading it again!
Best,
Paul
1. WHAT IS AN EXPERT SYSTEM?
An expert system is a program that includes expertise.
2. WHAT IS EXPERTISE?
Expertise is knowledge that enables an individual, group or program to perform an intellectual task better than that task can be performed without the expertise.
3. HOW IS EXPERTISE ENCODED WITHIN A PROGRAM?
Expertise, being knowledge, falls into a few general categories.
Some knowledge is declarative knowledge which doesn't do anything but which represents truth or state. Such knowledge can be stored in a standard database.
Some knowledge is algorithmic and can therefore be flow charted. Such knowledge can be expressed as a routine in any procedural programming language. Not everything a person or organization knows can be easily translated into data structures and flow charts, however.
4. SO FLOW-CHARTABLE ALGORITHMS SHOULD BE CODED PROCEDURALLY?
Yes, if the flow chart is actually produced, if it is not extraordinarily complex, and if there is no reason to believe that the flow chart is incorrect or incomplete. After all, procedural languages and flow charts are isomorphic, anything that can be expressed in one can be expressed using the other. However, if it is hard to produce a flow chart, it will be even more difficult to produce a working program using a procedural language.
As noted in prior posts about Project Sherlock, we have acquired knowledge from a biology textbook to build the business case for applications like Inquire.  We reported our results at SemTech recently.  The slides are  available here.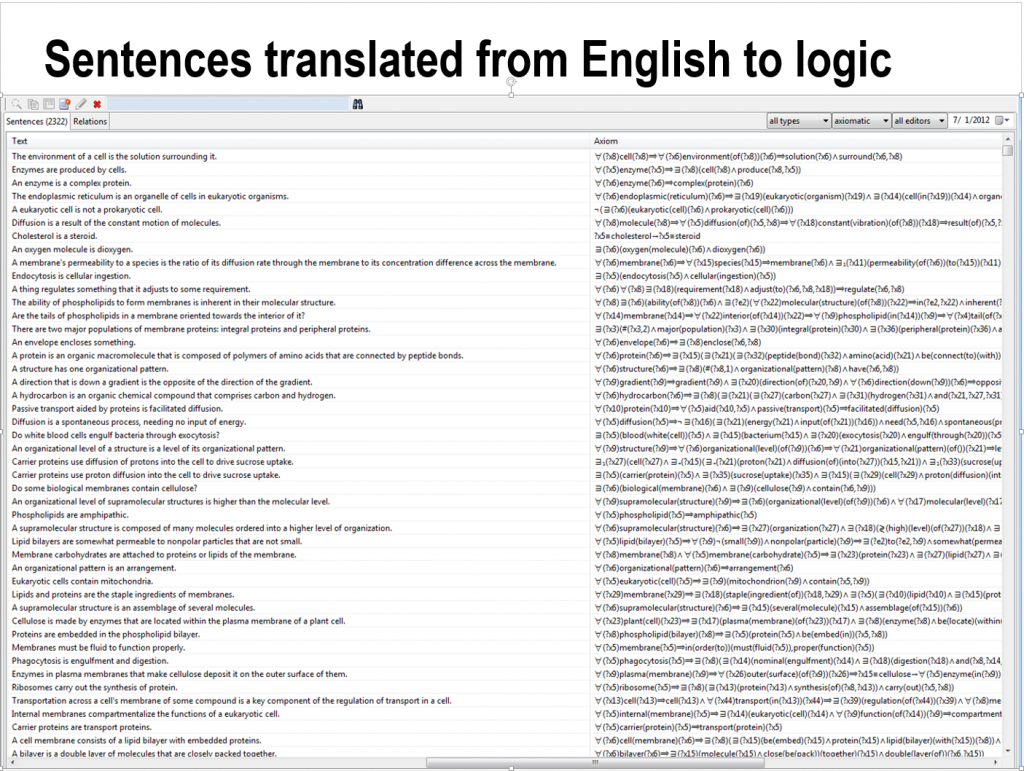 In the spring of 2012, Vulcan engaged Automata for a knowledge acquisition (KA) experiment.  This article provides background on the context of that experiment and what the results portend for artificial intelligence applications, especially in the areas of education.  Vulcan presented some of the award-winning work referenced here at an AI conference, including a demonstration of the electronic textbook discussed below.  There is a video of that presentation here.  The introductory remarks are interesting but not pertinent to this article.
Background on Vulcan's Project Halo
From 2002 to 2004, Vulcan developed a Halo Pilot that could correctly answer between 30% and 50% of the questions on advanced placement (AP) tests in chemistry.  The approaches relied on sophisticated approaches to formal knowledge representation and expert knowledge engineering.  Of three teams, Cycorp fared the worst and SRI fared the best in this competition.  SRI's system performed at the level of scoring a 3 on the AP, which corresponds to earning course credit at many universities.  The consensus view at that time was that achieving a score of 4 on the AP was feasible with limited additional effort.  However, the cost per page for this level of performance was roughly $10,000, which needed to be reduced significantly before Vulcan's objective of a Digital Aristotle could be considered viable.
If you are considering the use of any of the following business rules management systems (BRMS):
IBM Ilog JRules
Red Hat JBoss Rules
Fair Isaac Blaze Advisor
Oracle Policy Automation (i.e., Haley in Siebel, PeopleSoft, etc.)
Oracle Business Rules (i.e., a derivative of JESS in Fusion)
you can learn a lot by carefully examining this video on decisions using scoring in Ilog.  (The video is also worth considering with respect to Corticon since it authors and renders conditions, actions, and if-then rules within a table format.)
This article is a detailed walk through that stands completely independently of the video (I recommend skipping the first 50 seconds and watching for 3 minutes or so).  You will find detailed commentary and insights here, sometimes fairly critical but in places complimentary.  JRules is a mature and successful product.  (This is not to say to a CIO that it is an appropriate or low risk alternative, however. I would hold on that assessment pending an understanding of strategy.)
The video starts by creating a decision table using this dialog:

Note that the decision reached by the resulting table is labeled but not defined, nor is the information needed to consult the table specified.  As it turns out, this table will take an action rather than make a decision.  As we will see it will "set the score of result to a number". As we will also see, it references an application.  Given an application, it follows references to related concepts, such as borrowers (which it errantly considers synonomous with applicants), concerning which it further pursues employment information.
On the heels of IBM's acquisition of Lombardi comes Progress Software's acquisition of Savvion.  The salient similarities are that IBM is adding BPM applications to its middleware stack as is Progress, at least with regard to its enterprise service bus offerings.  More interesting is the relationship between Progress' complex event processing software and Savvion's BPM.  Also of note is the vendor-provided integration of JBOSS Rules within Savvion versus the unrealized potential of IBM's Ilog with respect to Lombardi.
We've written several times about the artificial distinction between CEP and BPM, their inevitable convergence, and the immature integration of business rules with business process management and event processing that inhibits knowledge-driven governance and decisioning. (more…)
I had the pleasure of visiting with some fine folks at Cycorp in Austin, Texas recently.  Cycorp is interesting for many reasons, but chiefly because they have expended more effort developing a deeper model of common world knowledge than any other group on the planet.  They are different from current semantic web startups.  Unlike Metaweb's Freebase, for example, Cycorp is defining the common sense logic of the world, not just populating databases (which is an unjust simplification of what Freebase is doing, but is proportionally fair when comparing their ontological schemata to Cyc's knowledge).  Not only does Cyc have the largest and most practical ontology on earth, they have almost incomprehensible numbers of formulas[1] describing the world.   (more…)